derbal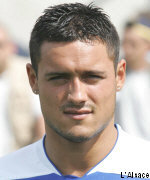 Offline



Joined: 31 Mar 2007
Posts: 86

Posted: 5th April 2007, 15:59

Post subject: TeLL me More English, Intelligent Solution 3 levels: Beginne

---

Tell me More English
Learn to speak English quickly and easily

Learning English has never been more convenient or fun! With TeLL me More English, you can learn English using a personal computer in your school or in the comfort of your own home.

Tell me More customizes its English instruction to you. As you advance through the program, Tell me More evaluates your progress, and uses your results to suggest activities and exercises best suited to your needs. And when you're ready to practice speaking English, its speech recognition technology gives you visual feedback to assist you in correctly pronunciating the language you're learning.
The Intelligent Solution package includes Beginning, Intermediate and Advanced levels, and is a near-perfect solution for practicing and learning American English. It contains more than 3,600 exercises, organized in 35 different types of activities, and 750 hours of learning!
Whatever your objectives or level, Tell Me More adapts to your needs and guides you through the learning process, just as a teacher would.

750 Hours Of Learning English, Divided into 6 Workshops
· The Lesson Workshop organizes activities by topic.
· The Cultural Workshop helps to improve your knowledge of the countries in which the language is spoken.
· The Grammar and Vocabulary Workshops include sets of exercises linked to grammar rules, verb conjugations, and key vocabulary words (classified by either topic or level).
· The Written Workshop includes sets of exercises designed to help you improve your written expression.
· The Oral Workshop contains numerous dialogues and interactive videos focusing on both oral comprehension and expression.

3 Alternative learning modes to help personalize your English learning
· The Dynamic Mode uses real-time performance analysis to tailor the English learning process to your individual needs. Evaluating your progress as you work, it adjusts your activities based on the results of your previous exercises.
· The Guided Mode offers a personalized lesson structure based on your own objectives and time constraints.
· The Free-to-Roam Mode allows you to select the activities and workshops of your choice, giving you the freedom to create your own English lessons.

The latest technology to help you learn English
· State-of-the-art speech recognition technology enables you to evaluate your pronunciation, and automatically detects and corrects your errors (using S.E.T.S. technology).
· A modern, user-friendly interface ensures effortless browsing.
· 2 hours of video activities included.
· 3D animations illustrate the movements of the lips and mouth to help improve your pronunciation.
· Comes with a headset and microphone

Testimonials
"Tell me More is the most complete program we found. It accomplishes everything we were hoping to find in a language learning software application."
-- Eurwook Park Bryant University, Rhode Island
"Tell me More is a superior package that will inspire you to improve your skills, no matter what your starting level. With the finest speech recognition tools, goal-setting abilities, and support - TELL ME MORE is clearly the leader."
-- Top Ten Reviews
"Tell me More is the most comprehensive and pedagogically-sound language program I have reviewed ..."
-- Mark Overton GS-12 United States Navy

Tell me More is the international standard for language learning:
• Over 5 million satisfied users worldwide.
• Global Leading Organizations have placed their trust in TELL ME MORE: the U.S. State Department, the U.S. Government, the FBI, the Canadian Federal Government, EDS, BMW, Carnival Cruise Lines, Mercedes, Telefónica…
• Used everyday in more than 10,000 Academic Institutions.

TELL ME MORE addresses all the skills critical to learn English : reading, writing, listening, speaking, vocabulary, grammar, and culture

__________________
1.Download all files with mentioned file sizes

2.Unrar-->it will give you a .iso file

3.Actually It is a image file so first of all you have to burn it on dvd using Nero or any burning tool and then enjoy

Its really a good tool to learn and understand English.